What's New
What's New provides a guide to new posts and enhanced features on www.cookiebuxton.com.  Click on the bold highlighted words in the descriptive text to link to the article of interest. To aid in your search for specific articles, select the index tab on the What's New drop down menu.
You are invited to follow Cookie Buxton on Twitter
To receive direct notices when new entries are posted on Cookie Buxton, you may wish to follow on Twitter. Simply click on the twitter icon on this website to connect to the Cookie Buxton Twitter account.
About home page banner photographs
Current banner posted June 28 2015 is of a lovely swallowtail butterfly drinking nectar from a honeysuckle shrub, taken at Lake Brereton, Manitoba. Visit the Banner Archives  under Garden Resources to view past home page banners.

November 15, 2017 – Thomas Blake Memorial Garden – En Route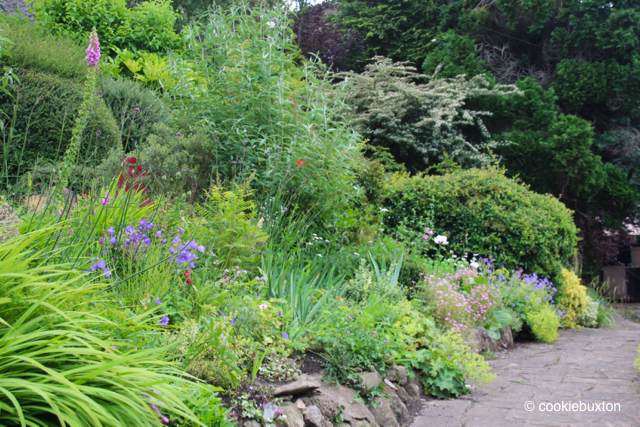 October 21, 2017 – World Gardens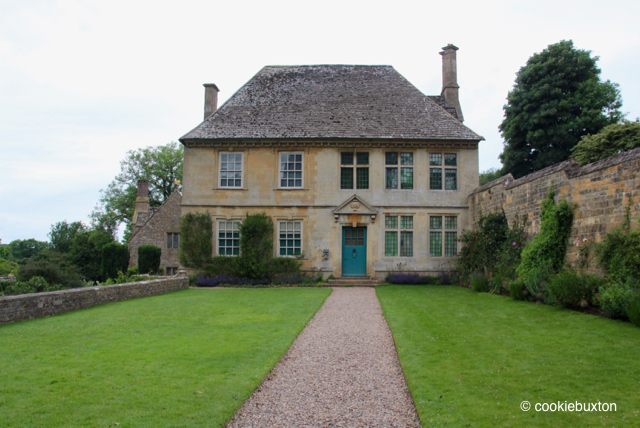 October 6, 2017 – World Gardens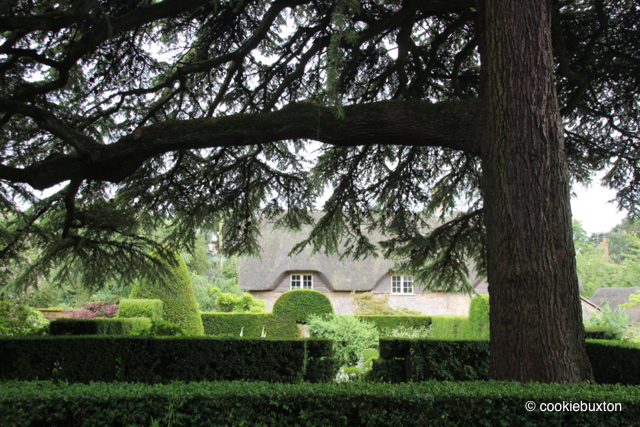 September 3, 2017 – En Route + Home and Cottage Gardens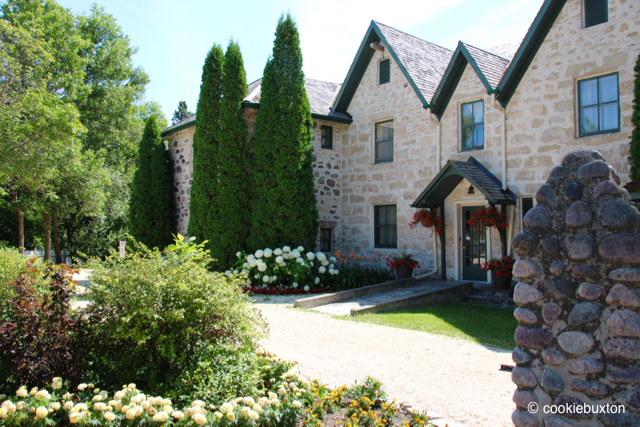 June 19, 2017 – Home and Cottage Gardens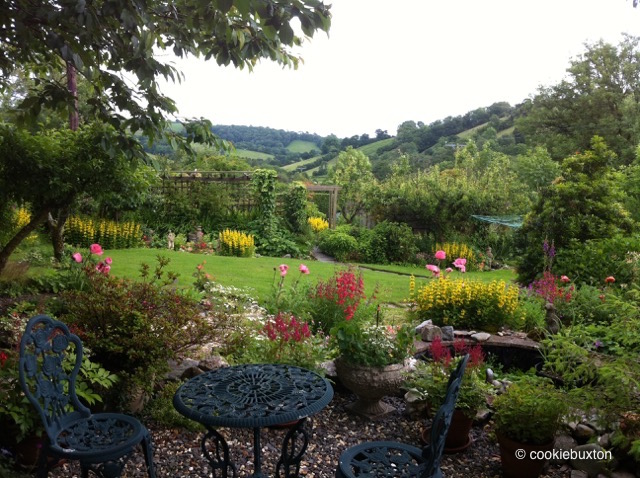 May 15, 2017 – En Route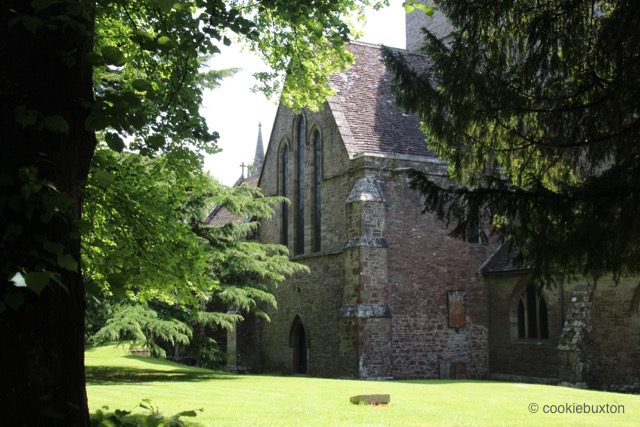 January 13, 2017 – World Gardens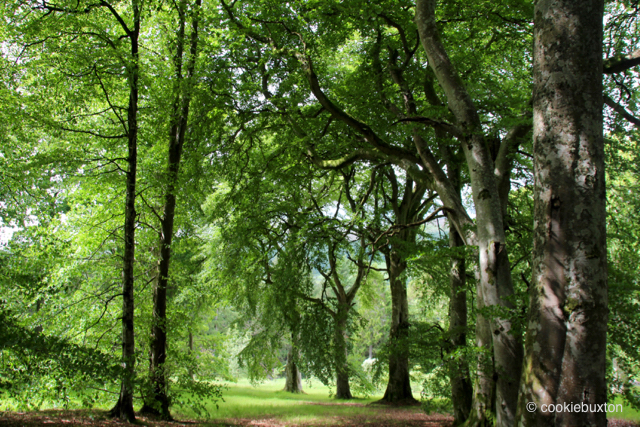 January 10, 2017
Under Cookie Buxton Garden Resources, I've opened two new content pages that you may find useful: one is a listing of Canadian gardens intended to help people locate gardens when travelling in the Canadian provinces and territories; the other is a list of garden blogs, with primarily Canadian garden blogs at this time, showing where possible the date the blog was established, where the writer resides, to provide perspective on the blog content, and the name of the blog writer along with one or two background details.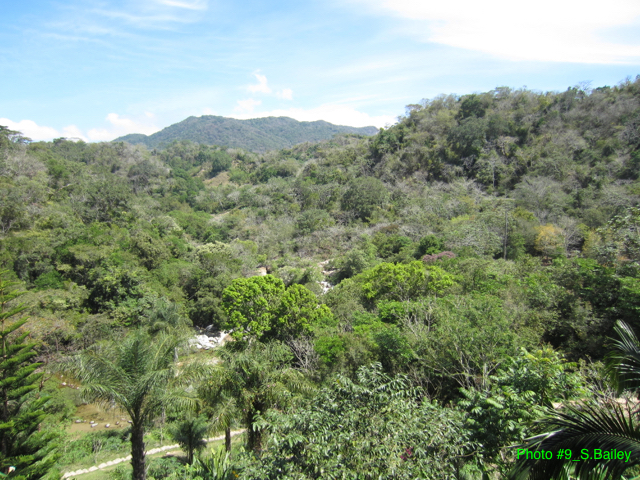 May 20, 2016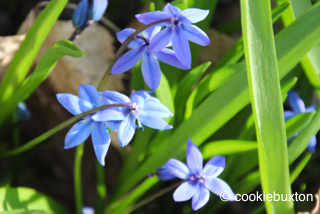 April 25, 2016
I've added new photographs to the write-up on spring Scilla.
Click here to view.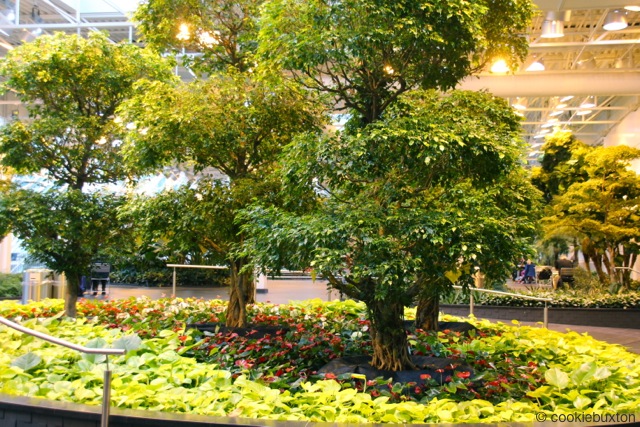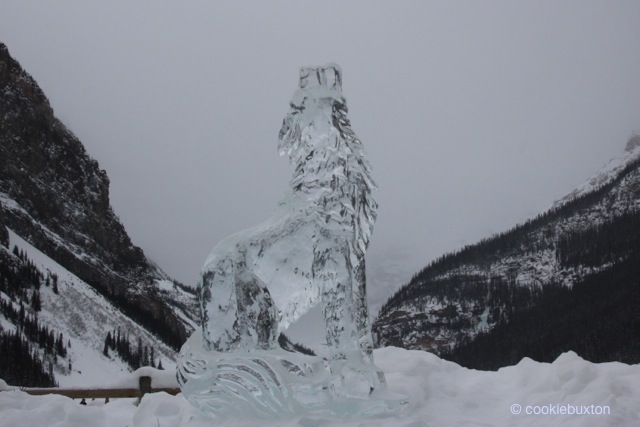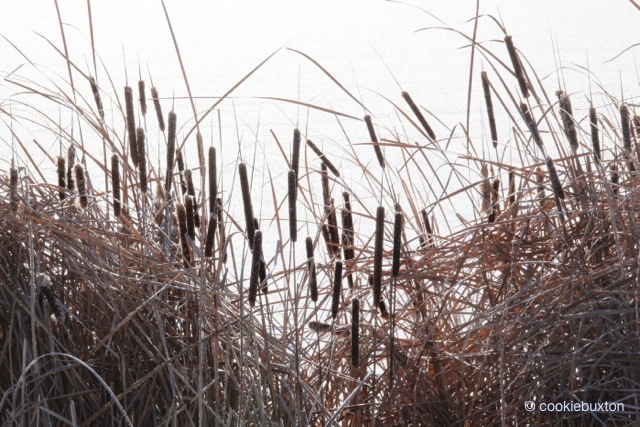 January 3, 2016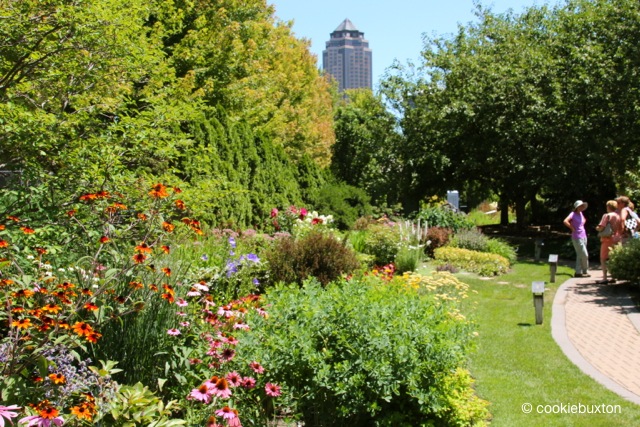 Better Homes and Gardens Test Gardens, a small demonstration garden in Des Moines, Iowa, perfectly illustrates Better Homes and Gardens' commitment to assessing the attributes of plant products before promoting these to its loyal magazine readers. Read more>>
December 7, 2015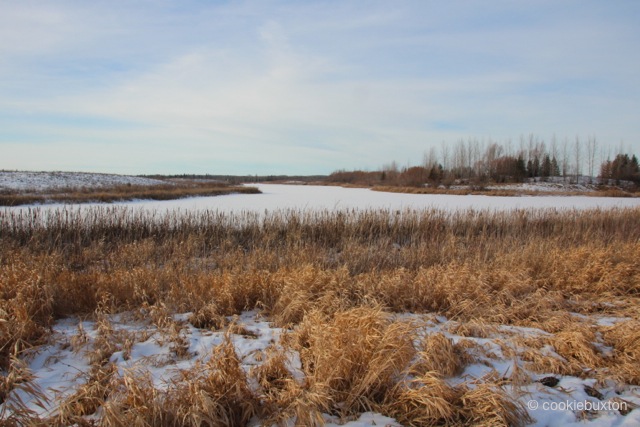 Birds Hill Provincial Park is a wonderful refuge for wildlife and human folk alike. The photos accompanying this article help convey the enjoyment one gets on a "walkabout" around the lake area within the park, shown here on mild day in December. Read more >>
November 15, 2015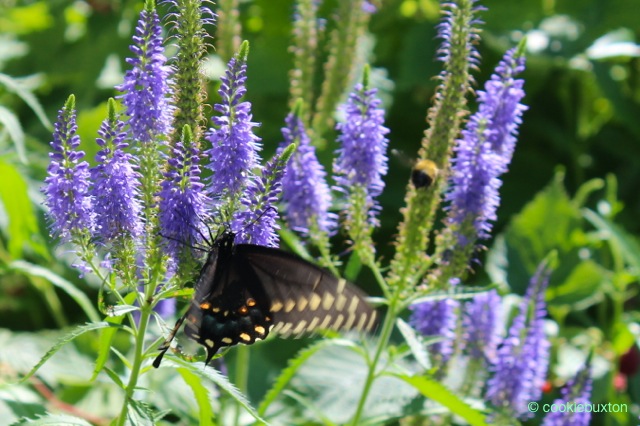 Blue-flowering Hungarian Speedwell – – Veronica longifolia 'Sunny Border Blue'  – is a tall, gorgeous, reliable bloomer loved by bees and butterflies.
Read more >>

October 1, 2015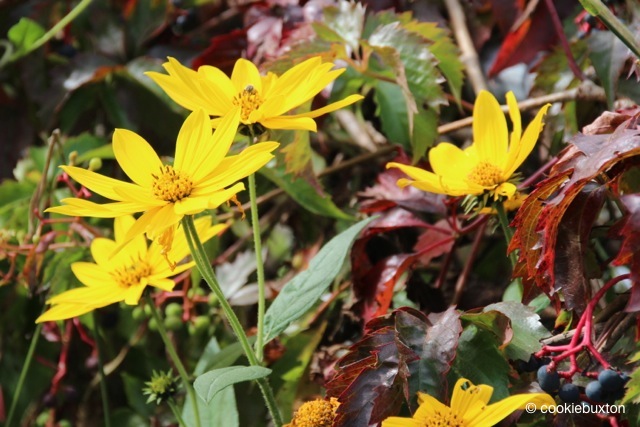 Jerusalem Artichoke (Helianthus tuberosus) is a tall, native North American sunflower that blooms in August and September in the zone 3 prairie region. As a perennial, it adds colour and interest to the fall garden. Read more >>
September 27, 2015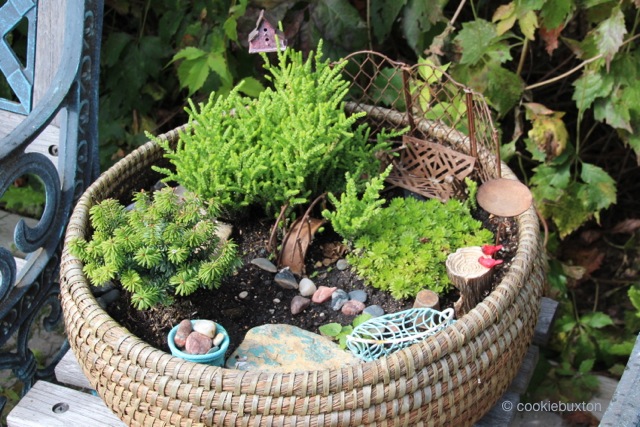 Miniature gardens are fun additions to the home garden, and there are lots of "fairy garden" accessories and suitable plants you can add to your miniature landscape. Read more >
September 6, 2015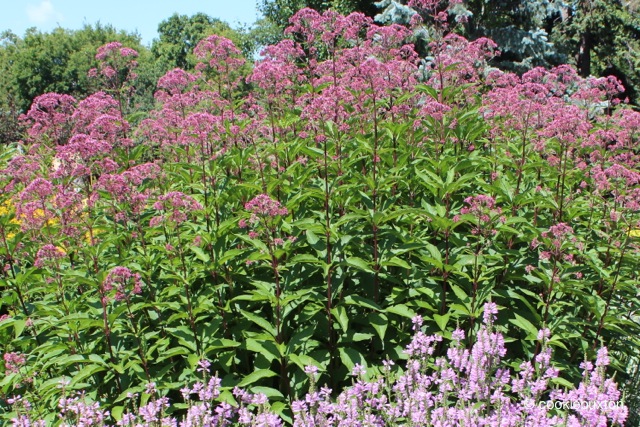 A tall, native North American wildflower, Joe Pye likes sunshine or partly-sunny conditions and it prefers moist soil, in which it sets down deep roots. While there are "Little Joes" to be found in the nurseries, it is the tall native species that is the real crowd pleaser. Read more >
August 9, 2015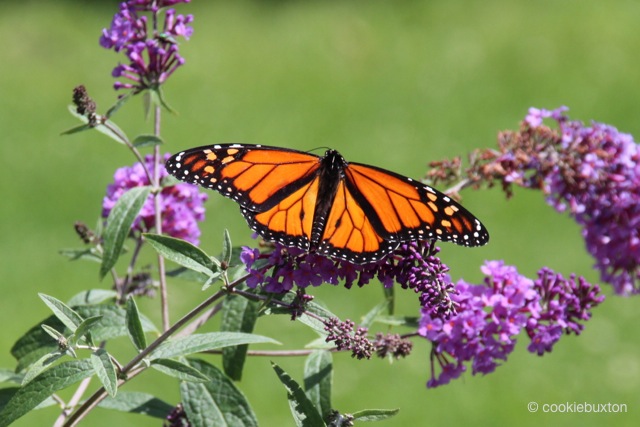 A Monarch Butterfly (Danaus plexippus) recently visited my yard, sharing a meal with a cabbage butterfly on some tall purple Liatris (Liatris spicata) and then dining on some of its other favourite flowers.  Read more > 
August 3, 2015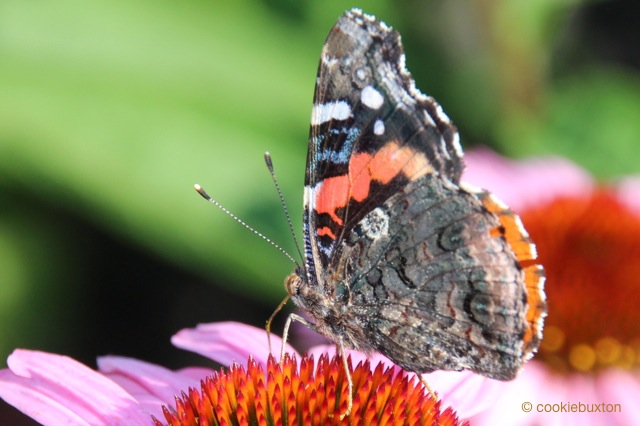 The Red Admiral Butterfly loves to dine on the sweet nectar of the coneflower and so has found its way into an abundant patch of these gorgeous orange and pink flowers in the northern summer garden. Read more >
July 5, 2015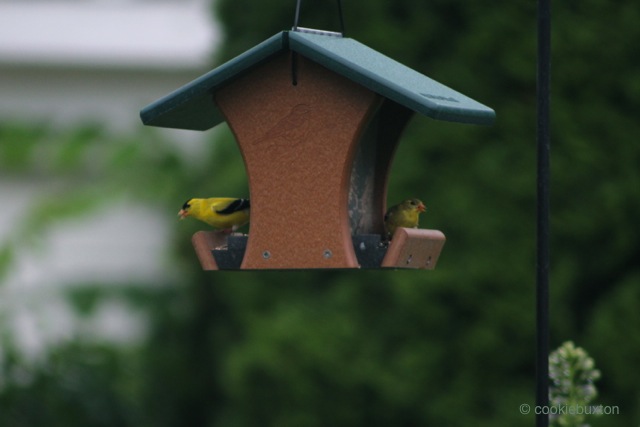 In northern cities, it is fairly common to see Goldfinch in areas with well stocked bird feeders and thistle and dandelions growing nearby.  Read more >
June 27, 2015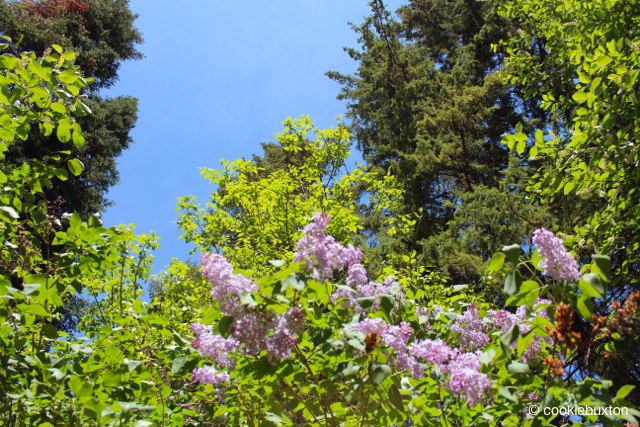 The scent of the Common Lilac is divine. The common lilac along with lily of the valley to my mind represent the best of what spring offers us in fragrance in my part of the world. Read more >

June 14, 2015

O Rose, thou art sick.
The invisible worm,
That flies in the night
In the howling storm:
Has found out thy bed
Of crimson joy:     …Read more >
May 23, 2015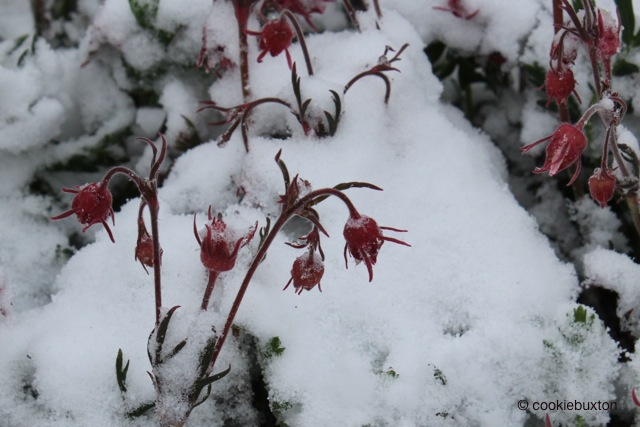 Snow on Victoria Day covered the flowering crabapples, apple trees, cherry trees, and flowering shrubs, along with the early flowering perennials and tender leaves of vines and ground covers. The trees faired amazingly well, and the plants did too, surprisingly, and somehow survived the snow and overnight freezing temperatures. My Twitter photographs show before and after images from my home garden.

May 12, 2015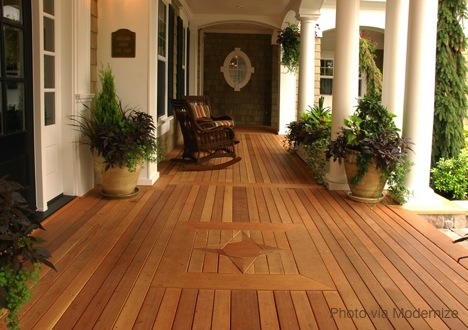 Featured in Cookie Buxton's Guest Garden section is an article by American freelance writer Danielle Hegedus on Outdoor Patios and Deck Ideas. Danielle is a contributor with modernize, a Texas-based website offering home interior and patio and deck ideas and design tips.
April 26, 2015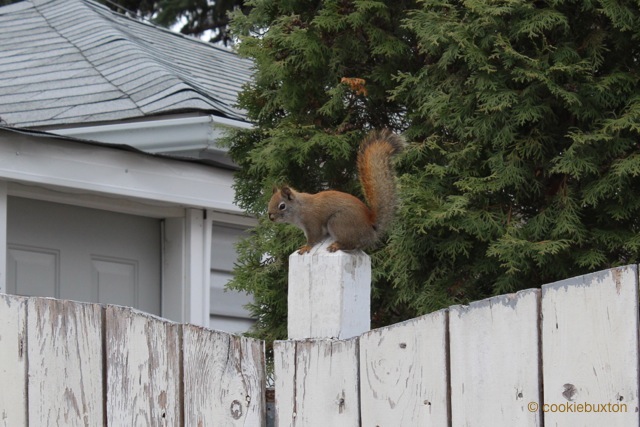 Seeing the Red Squirrels become active in spring is uplifting and fun. These noisy little charmers, with their "chirring" and chucks and barks are the acrobats of the city neighbourhood. See new images in photo gallery >>

April 3, 2015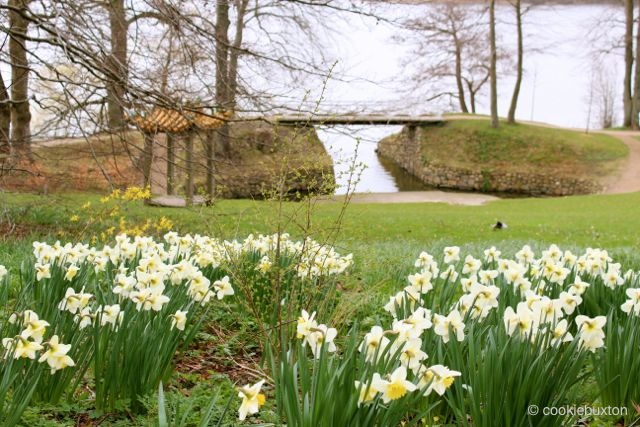 Since it snowed today in my home town, let me invite you on photo journey of a Springtime Stroll in Lyngby, Denmark, taken last year on this same date, in a parkland area north of Copenhagen. Read more >
March 29, 2015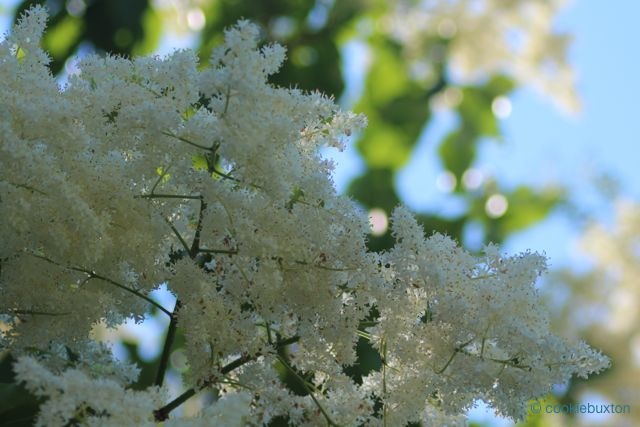 For adding interest, dappled shade, gorgeous blossoms, and habitat for birds in your yard, Japanese Tree Lilac (Syringa reticulata) is an excellent choice. Read more >
March 13, 2015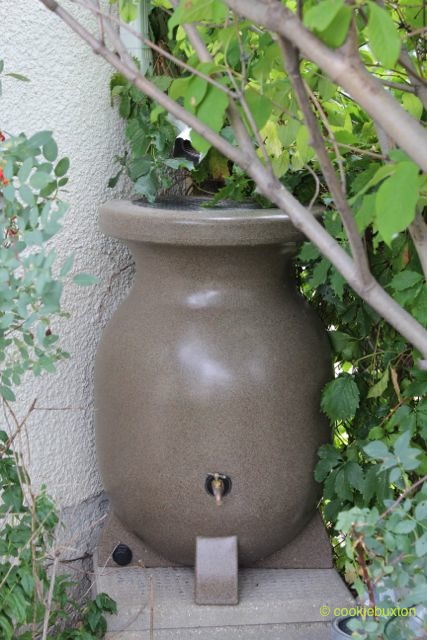 Rain Barrel for the GardenA modern new rain barrel for the garden is a perfect addition for the yard this season, particularly if you are wanting a more elegant version of the old fashioned barrel. Read more>
March 1, 2015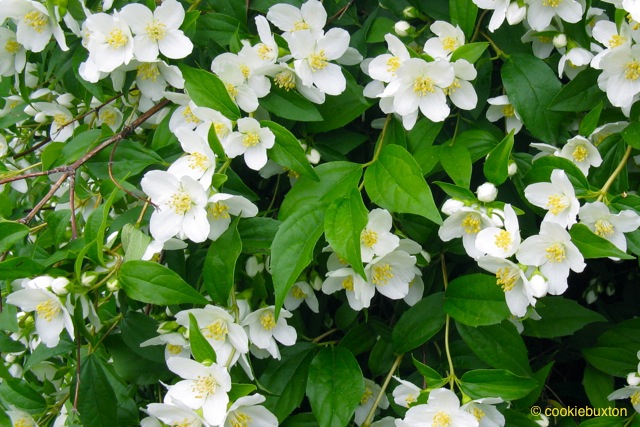 Of the many gorgeous fragrances of early summer, Sweet Mock Orange – Philadelphus coronarius L. – ranks as a favourite for many folks for its  light citrus scent.
February 22, 2015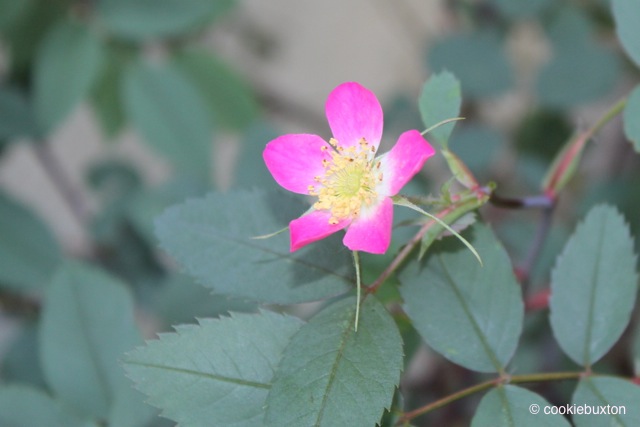 The species rose Rosa glauca  (formerly Rosa rubrifolia), called the Red-leaf Rose, is known for its beautiful leaves as well as its small and lovely one-time blossoms in spring. The Rosa glauca blossom is open and somewhat flat, with five small, light pink-mauve petals fading to white near the centre. Read more >
February 8, 2015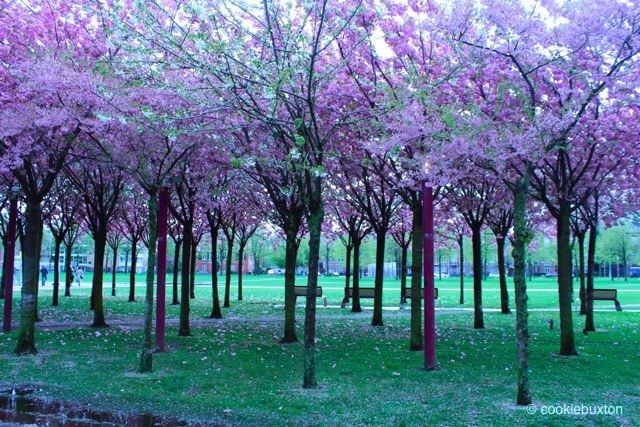 We gained a delightful impression of springtime in Amsterdam's Vondelpark and Museumplein, walking in the month of April alongside a quiet stream in Vondelpark (Vondel Park) and under a canopy of pink blossoms in the Museumplein (Museum Square). Read more>
February 1, 2015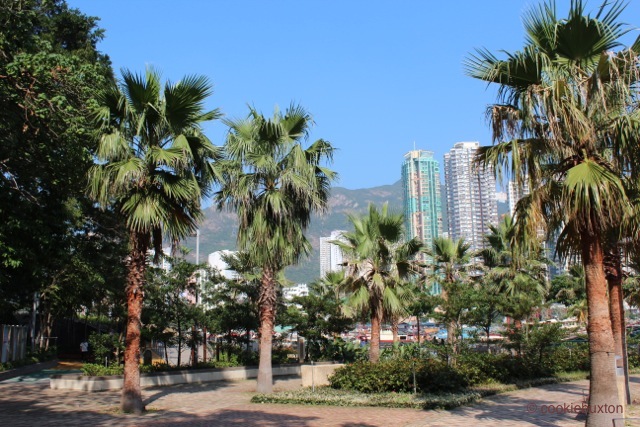 Ap Lei Chau Promenade, Hong Kong, is one of countless walkways along the beautiful shorelines of the Hong Kong islands. This particular Promenade, across the harbour from Aberdeen, was a few short blocks from our friends' apartment in Ap Lei Chau.
January 4, 2015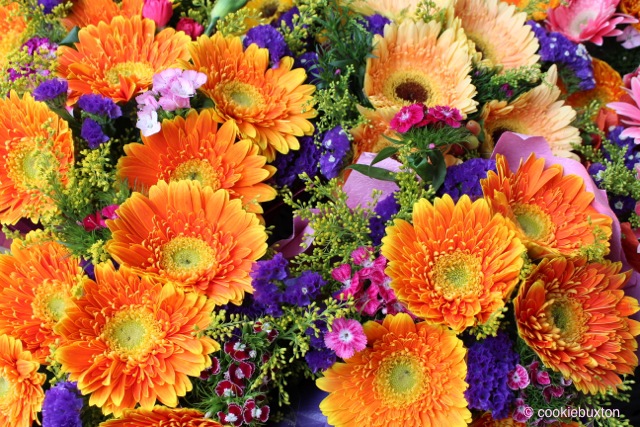 Touring abroad in December, a side trip to the Hong Kong Flower Market was a perfect excursion. Gorgeous flowers and plants were tonic for the spirits.
December 28, 2014

For garden lovers, one of the must-see sites when visiting Hong Kong is the Nan Liam Garden and adjacent Chi Lin Nunnery in the Diamond Hill area, Kowloon. This exquisite garden, maintained by the Chi Lin Nunnery, is styled to showcase classical Chinese landscaping. The image below, shared earlier in December, is from the Nan Liam Garden.

December 17, 2014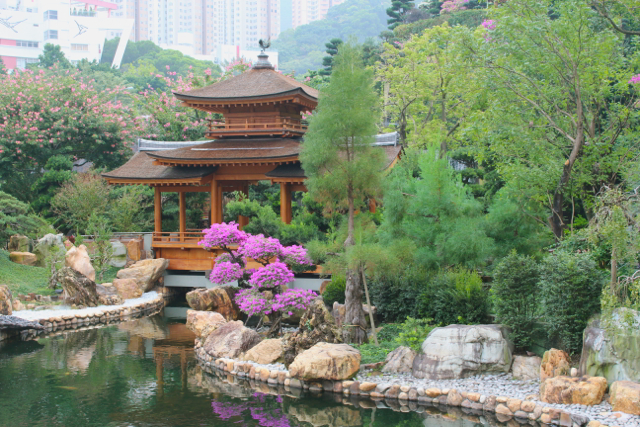 While visiting friends in Hong Kong in December 2014,we had the pleasure of touring the city and islands with them and visiting a few of Hong Kong's gorgeous gardens and parklands. I hope you will re-visit Cookie Buxton in the new year to enjoy images and notes that I will post from such places as the Nan Liam Garden (above), Hong Kong Park, Hong Kong Zoological and Botanical Gardens, and Ap Lei Chau Promenade. I invite you to join me in discovering the beauty within Hong Kong's exquisite urban, sub-tropical gardens.
November 11, 2014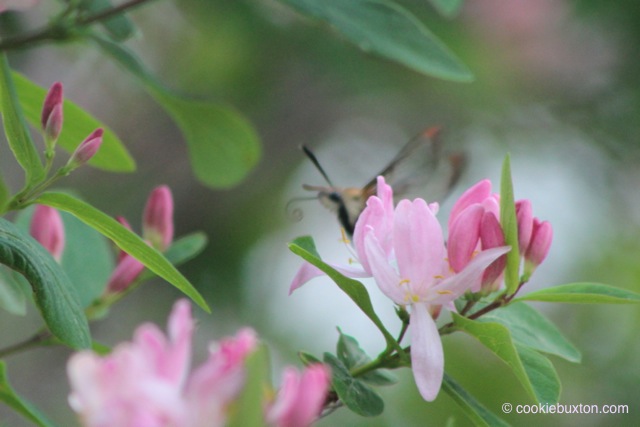 Friends, there are new images of the lovely Bumblebee Moth (Hemaris diffinis) added to the photo gallery accompanying the article.  The moth shown here is attracted to the blooms of a wild honeysuckle bush growing at Brereton Lake, Manitoba.
November 9, 2014

Silver-grey Woolly Lamb's Ears is one of the most delightfully named plants in the lexicons, and certainly among the nicest to touch. When it comes to colour palettes, if you are seeking silver-grey plant selections for your home garden, Woolly Lamb's Ears – Stachys byzantina – is a wonderful choice.
November 2, 2014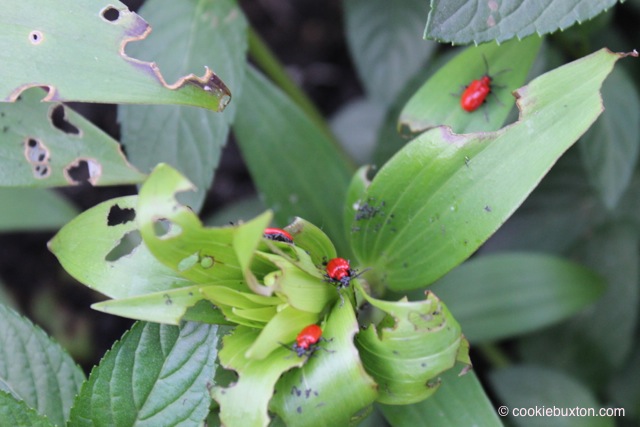 The Red Lily Beetle, also known as the scarlet lily beetle and the lily leaf beetle (Lilioceris lilii), can wreak a lot of damage upon gardeners' lily collections. The red lily beetle turned up in 2013 in my yard and my neighbour's yard.
October 21, 2014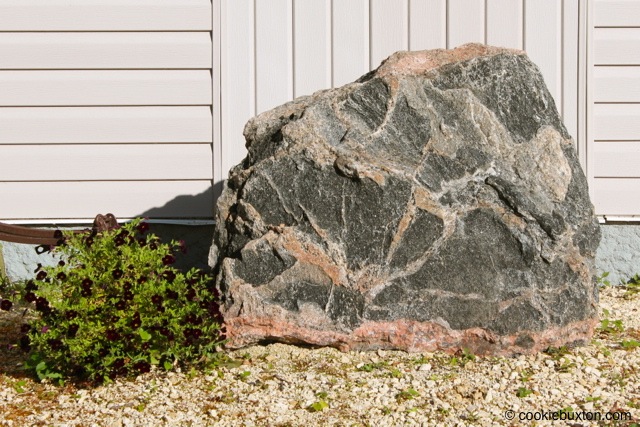 My Best Rock Garden Ever award goes to a unique garden in Gimli, Manitoba where a fine collection of rocks lie front and centre on a gravel bed. See for yourself…
October 19, 2014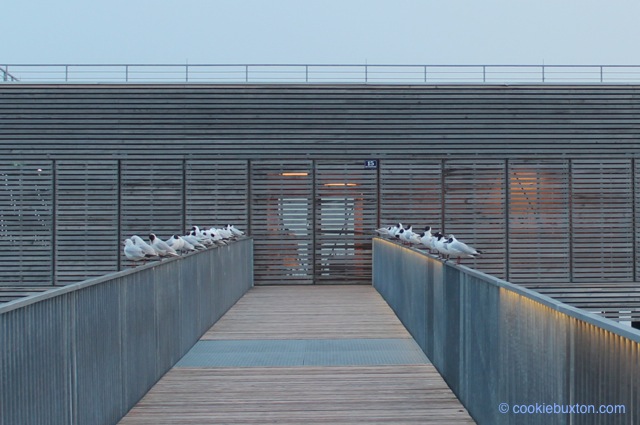 Gulls enliven so many scenes of memory, their distinctive squawking calls and wails summoning images of favourite shorelines, whether along freshwater lakes or in the salty foam waves at a sea shore. The scene above is taken at a restaurant on Lake Konstanz on the Austrian shoreline. Read more by clicking on Gulls.
October 5, 2014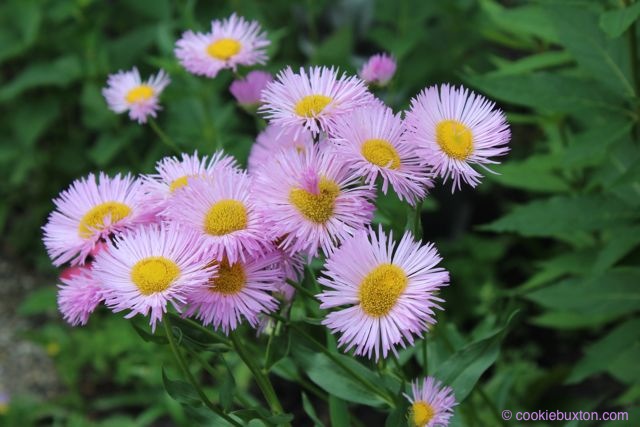 Everything about the fabulous Fleabane flower is interesting, and even a little amusing. Named Fleabane to describe its medicinal anti-insect properties, it is in fact in its live state highly attractive to a great variety of insects, though its oil contains flea-repelling properties valued by early settlers and modern herbalists.
September 26, 2014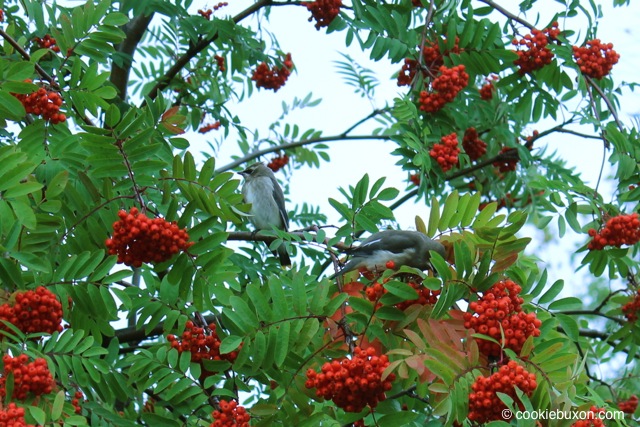 Cedar Waxwings flock in large numbers in fall, and their movement drew my attention to juvenile Cedar Waxwings feasting on the berries of a mountain ash.
September 22, 2014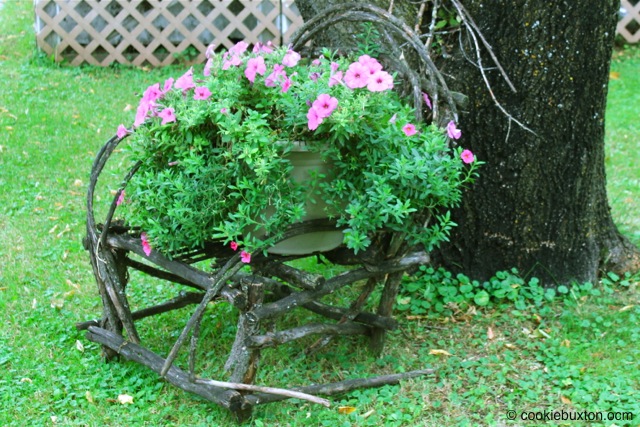 Do you like the look of homemade, twig furniture for your cottage garden? If so, this rustic twig chair might tweak your imagination around what you would like in your yard at the lake.

September 20, 2014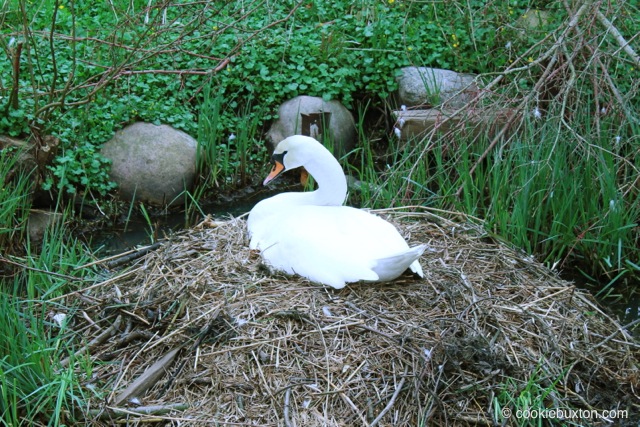 Swans are "everywhere" in Denmark, and it was so beautiful to see these nesting swans in Kolding, Denmark. The elegant swan is among the most photographed and loved birds in the world.

September 14, 2014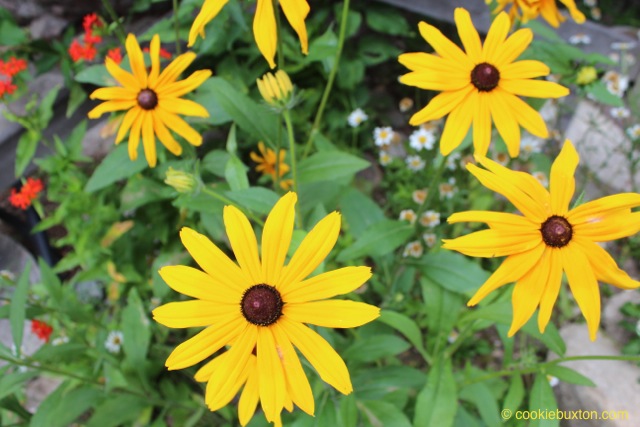 If you live in North America, you will have seen Black-eyed Susans dotting the countryside since you were old enough to ask how this attractive sunshine flower got its name.

September 7, 2014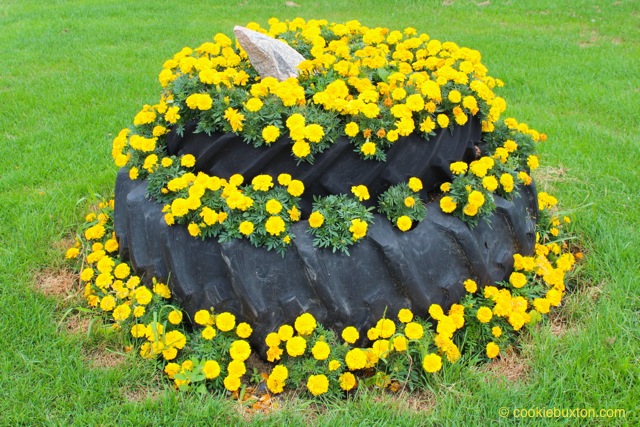 Reused tractor tires make a great garden bed for bright yellow marigolds at the Arnes Farmers' Market near Gimli, Manitoba.
September 6, 2014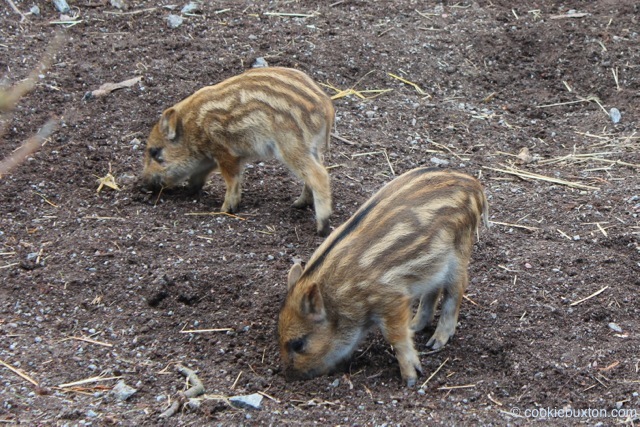 Sweden's Skansen Open-Air Museum, founded in 1891 by Artur Hazelius, is home to an abundance of native animals and birds of Sweden. The Skansen Museum is located within the city of Stockholm on the island of Djurgarden. I visited this gorgeous park with my husband in early spring, 2014, when the daffodil, scilla, and crocus were enjoying their moments in the sun. Above: wild boar.
August 21, 2014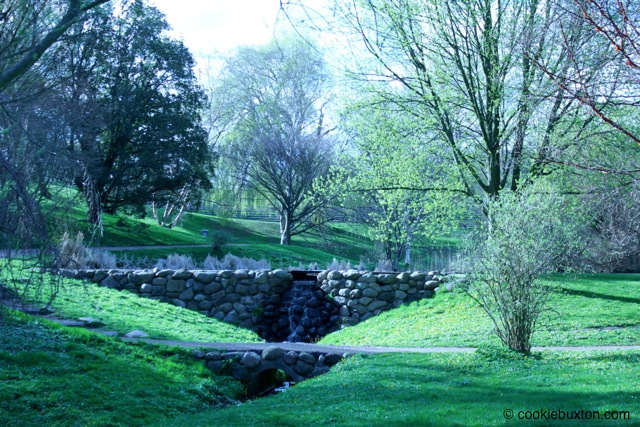 Situated in Denmark is the attractive Aarhus Botanical Garden, located west of the Aarhus Old Town open-air village museum,  Den Gamle By. Established in 1873, the original garden featured fruit trees and a variety of useful plants. Spanning an area of 53 acres (21.5 hectares), Denmark's Aarhus Botanical Garden today is home to thousands of species of native and imported plants.

July 27, 2014

Bumblebee Moth (Hemaris diffinis) is neither a hummingbird nor a bee – it just likes other creatures to think it is something other than a moth, so it has, in a remarkable fashion, evolved to have the attributes of flying like a bird and looking like a bee. This perfect little creature is the Bumblebee Moth (Hemaris diffinis), a member of the Hawk moth family. It is also known by the name Snowberry Clearwing.

July 9, 2014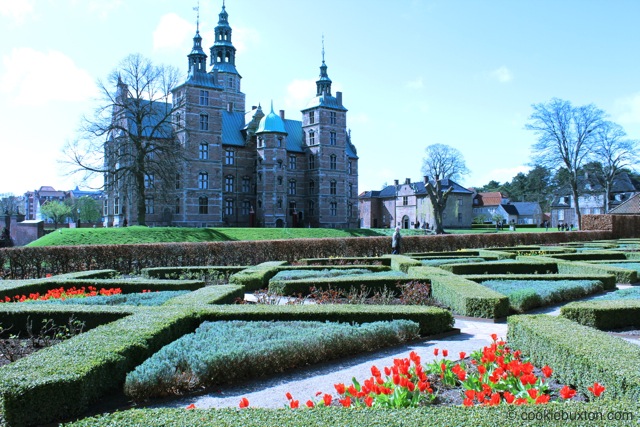 Visit beautiful Copenhagen and you will find yourself drawn to the King's Garden in Copenhagen. Originally designed for Christian IV in 1606, King's Garden is the palace garden at Rosenborg Castle, where the national royal treasury is housed. This is Denmark's oldest national palace garden.
June 29, 2014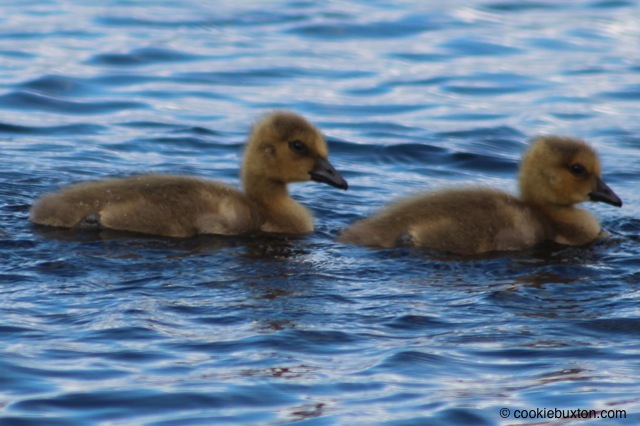 Canada Goose. Branta canadensis. Most people I know pause and look up to the sky when they hear the distinctive honking of Canada geese that are flying in V-formation overhead. In the north, when the Canada Goose arrives in spring, they bring a sense of hope and renewal.
June 23, 2014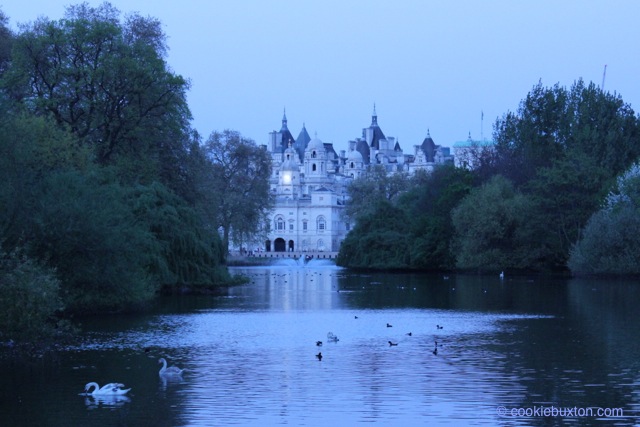 My stroll through the gardens of St. James's Park, London took place in the pinkish light of dusk, and as I travelled east from Victoria Fountain at Buckingham Palace towards the Horse Guards Parade, I had a very lovely view of this scenic, historic park.
June 17, 2014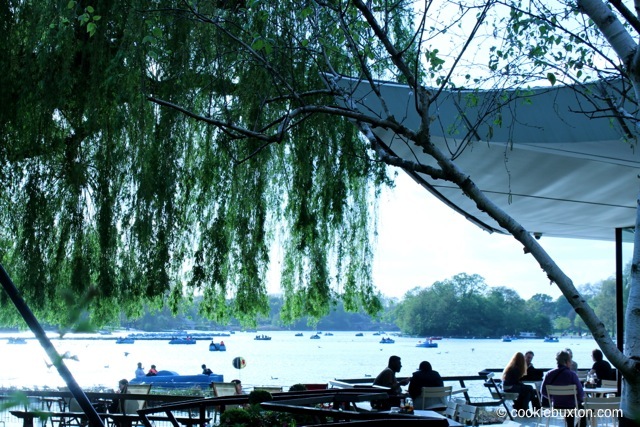 London's beautifully landscaped Hyde Park, featuring over 360 acres of meadows, wooded grounds, and lake area, is the largest of City's eight Royal Parks. Taken together, Kensington Gardens, Hyde Park, The Green Park, and St. James's Park form a continuous green corridor of carefully tended grounds stretching from Kensington Palace to the Horse Guard Parade.

May 24, 2014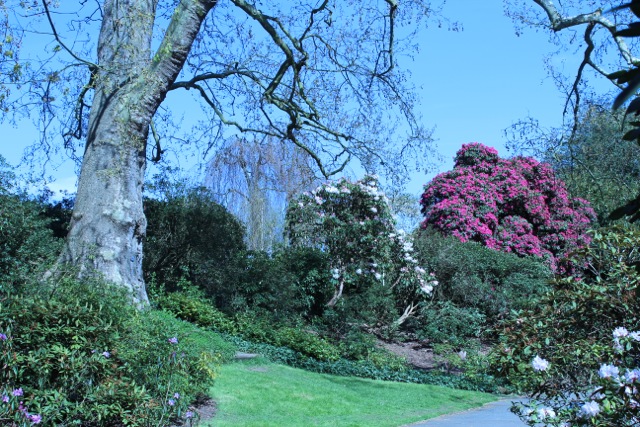 Walking through England's Kew Gardens in springtime was magical for me. It was a warm day in April when I visited, the sun was shining, and the trees were pushing out their buds. Even without the full canopy of green of the deciduous trees, all of the older trees in the gardens have a real majesty to them.
May 16, 2014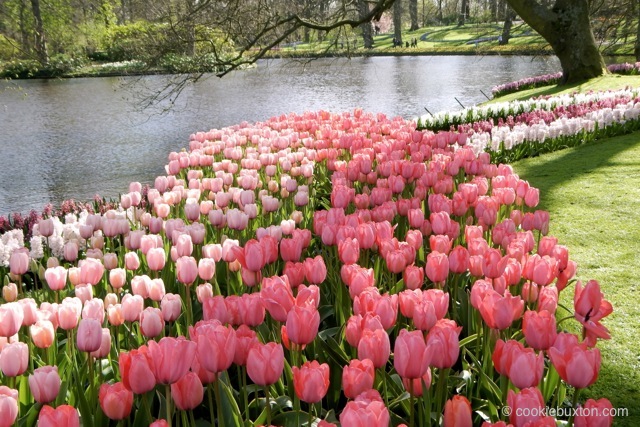 We visited the wonderful Keukenhof Gardens in April 2014 when the daffodils and hyacinth were in full display and hundreds of thousands of tulips bulbs had opened and were in prime condition.

May 4, 2014

Article by Daryl D on Garden Genealogy  – Every personal garden stroll or tour is a journey and an adventure, filled with wonderful stories. Take the time to relish the genealogy of gardens. Like family history, each family of plants has a story.
May 4, 2014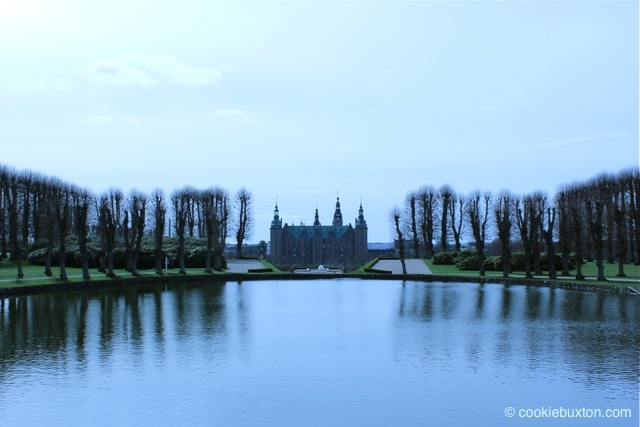 The Baroque Gardens at Frederiksborg Castle north of Copenhagen were among our first stops on visiting Denmark in April 2014. Approaching Frederiksborg Castle from Hillerød Square, the visitor doesn't yet get a glimpse of the immense formal garden and the adjacent landscaped gardens that lie. We made our way around the castle and over to the gorgeous baroque gardens and landscaped gardens.

March 16, 2014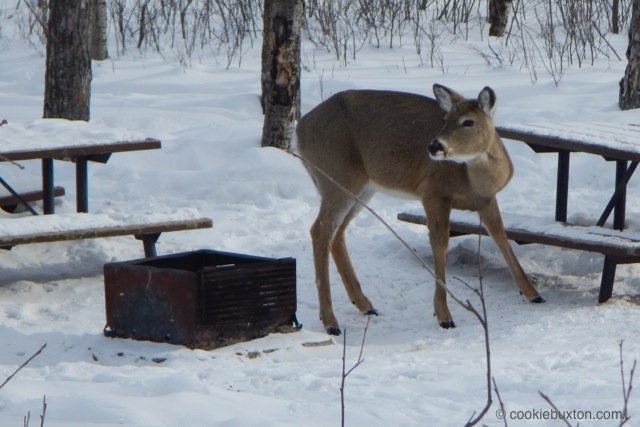 White-tailed deer are such gorgeous animals. Perhaps it's because I fell in love with Bambi as a child that the sight of deer is always exciting to me. Of course, if driving at dusk or in the night, deer are the last creatures in the world that you want to see at the edge of the road.
March 7, 2014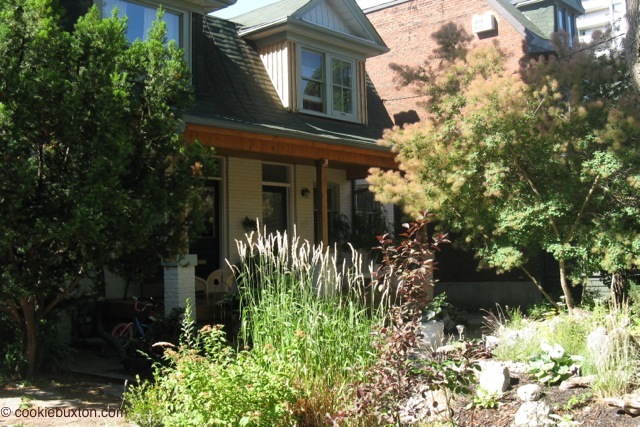 Designing small front yard gardens in Toronto's Danforth district poses interesting challenges. A walk-about offered delightful glimpses into local gardens.
March 1, 2014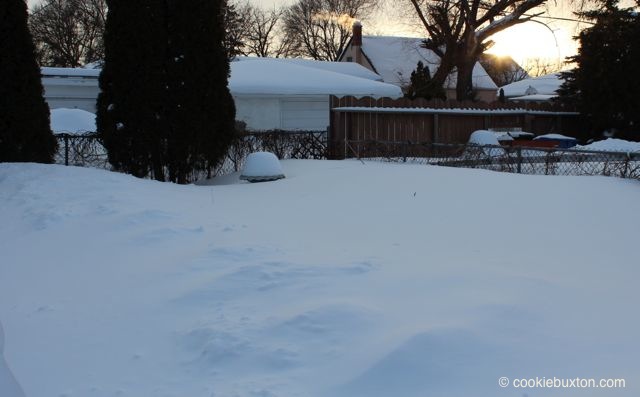 In northern gardens, the winter brings a period of deep rest. The layers of snow in my garden insulate and shelter life below the surface.

February 15, 2014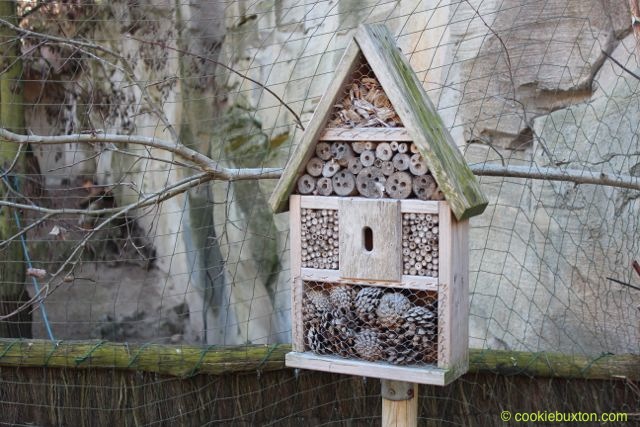 Insect Hotels and Condos provide habitat for beneficial garden insects, helping to maintain healthy populations of insects such as solitary bees for cross-pollination.

February 2, 2014
The Leo Mol Sculpture Garden in Manitoba's beautiful Assiniboine Park in Winnipeg houses a remarkable collection of over 300 bronze Leo Mol sculptures.
January 18, 2014
Over the years, during the many canoe trips and wilderness outings that my husband and I and our family have enjoyed, we have taken many photographs of birds, plants, and animals living in Canada's magnificent boreal forests and parklands. I have added in the additional menu item, Birds, here on the Cookie Buxton Spare Time Garden Gallery, as a means to share some of these wonderful images with you.
January 18, 2014
The Spruce Grouse makes its home in northern coniferous and boreal forests across much of Canada. It is also common in the northern United States.
January 11, 2014
Chalk-fronted Corporal Dragonfly is a sturdy and handsome dragonfly specimen. The word "corporal" suits the look of this compact, agile, and fast flier.
January 10, 2014
Mourning Cloak Butterflies, members of the Nymphalidae Family, are common throughout North America and into northern South America. They are also native and common to Europe and Asia. The species is known in Europe by a variety of names, including Camberwell Beauty in Great Britain.
January 3, 2014
Garden Resources is a new feature page within the Cookie Buxton website that provides links to other gardening blogs and website tools that may be helpful to spare time gardeners.
January 2, 2014
Tropical Butterflies inside and snow outside – it's not a picture that usually comes to mind when thinking of the natural habitat of tropical butterflies, but it is possible thanks to the dedication of experts who design and construct indoor habitats to house butterfly exhibitions. A miniature tropical garden in Germany served as home to a wide range of tropical butterflies for over half a year, bringing endless delight to thousands of visitors.
December 15, 2013
Garden Project #1 – A Front Yard Garden Retainer Wall (Article 2). "My strong fence is now built so how will I retain the soil and navigate into and up to the top part of the garden? In good design, the "bones" are the most important part, then the function or access for the gardener, and then some aesthetics." …Click on the Garden Project link to view Daryl's second instalment on her retainer wall garden project.
December 12, 2013
Rhododendron Park, Bremen offers the visitor 46 hectares of garden, featuring over 450 varieties of Rhododendrons in its collection. A visit in March 2013to the park's Green Science Center offered a chance to see a lovely collection of Rhododendrons in bloom, along with azaleas, camellias, and a selection of plants from Japan, Korea, and the Himalayas.
November 9, 2013
North American Red Squirrels are a familiar sight on the Canadian prairies. They are abundant in cottage country, on the farmlands, in the towns and cities, and in the boreal forests and mixed woodlands.
November 6, 2013
Friends: This winter we can look forward to reading about an innovative garden project by guest contributor Daryl D. Daryl is an Interior Designer, which partly explains her wonderful insight into the colours, textures, and contrasts that make a garden so appealing. In addition to her professional skill, Daryl has the eye of an artist, and that is her natural gift as well as a trained talent. I am pleased to introduce the first of Daryl's articles in the series, Garden Project # 1: A Front Yard Garden Retainer Wall, written about her first garden project
November 3, 2013
Russian sage , with its airy, lavender flower spikes in bloom from July through to late fall, brings an informal touch to the structured garden, and its long lasting, delicate blooms add a beautiful and constant element to the changing garden.
October 20, 2013
Hollyhocks are beginning reappear in the urban landscape as new gardeners discover the beauty and appeal of these lovely, old-fashioned plants. Hollyhocks, which can reach heights of 6- to 12-feet high, thrive at the back of the border, along south and east-facing garden beds.
October 13, 2013
Grasshoppers visited my garden this summer. As a result of some clear, dry weather, there were a fair number of them, appearing in August and lasting into October. I can't say I am particularly fond of grasshoppers. When I see them, I often let out an involuntary scream. My friend Daryl, also a gardener, welcomes seeing them. She reminds me that they are part of our ecosystem.
October 6, 2013
Virginia Creeper is a wonderful plant suitable for gardeners who are willing to keep an eye on it, and to cut back vines when they assert themselves too much. With a bit of care, the gardener can look forward to enjoying a great deal of beauty and also privacy in having this robust climber encircling the yard. And the bright red colouring on the vines in fall is absolutely stunning.
September 26, 2013 – updated and replaced September 6, 2015
Joe Pye Weed is a tall, native North American wildflower that likes sunshine and moist soil in which to set down deep roots. While there are many species of the plant, and a selection of "Little Joes" to be found in the nurseries, it is the six-foot and higher species that are the real crowd pleasers.
September 15, 2013
Assiniboine Park's English Garden in Winnipeg is a popular attraction for visitors, and being situated adjacent to the outstanding Leo Mol Sculpture Garden adds extra appeal to this lovely destination. The garden is just as beautiful in the autumn as it is in the spring and summer, making it well worth the visit.
September 2, 2013
Der Bürgerpark in Bremen is a lovely city park located not far from the city's central train station or Hauptbahnhof. If you are visiting in Bremen or touring the area, you may want to take a stroll through the park to enjoy the scenery.
August 29, 2013
Neala, a soft-coated wheaten terrier, is our favourite garden visitor. She is, in fact, the family pet and so it is, in part, her garden. Over the years, she has learned to avoid stepping all over the flowers in the gardens. For this, I am forever grateful.
August 25, 2013
Wurzburg Court Garden now features a photo gallery with images of this lovely baroque garden.
August 24, 2013
Sweet wild raspberries found their way quite accidentally into our garden by bird droppings, and we have enjoyed the delicious fruit of these wild berries each season for the past several years. With little to no care, the robust canes produce sweet berries that are a treat for us humans, along with the birds, bees, and other garden visitors.
August 15, 2013
Garden Bumblebees are vitally important members of the eco-systems and urban garden landscapes. Do you have a healthy population of bees in your area? Find out a little more about these furry insects and see if you can find a way to create a welcoming garden that attracts and supports native wild bumblebees species.
August 8, 2013
Hemerocallis fulva, or Tawny Daylily, is widely grown in North America, where its three-to-four-foot stems are topped with flowers, each of which blooms for only one day. "Hemerocallis," in fact, means "beauty for one day." I enjoy the stunning impact of an abundance of these handsome Tawny flowers that form a "hedge" next to my back fence.
July 28, 2013
Visits from Black Swallowtail Butterflies to the spare time garden is one of the chief rewards for spending time and energy in growing flowers, and is payback for growing some of the host and nectar plants that support local butterfly populations.
July 24, 2013
Peonies are the Grand Dames of the garden. In addition to being absolutely gorgeous, peonies are steadfast, long-lasting friends in our yards, sharing their flowers and creating memories that linger throughout our lives.
July 22, 2013
Fairy Gardens are fun to build. I am going to try my hand at constructing a miniature garden this August when I am tired of weeding. In this posting, you will see my recent purchases from a little shop in Des Moines, Iowa.
July 13, 2013
Sensational Cosmos has a welcome place in my garden year after year. Classified as a perennial in zones 7 to 10, here in zone 3 it is a cheerful annual that I hunt down before it is sold out in the nurseries. I particularly appreciate cosmos in the fall as the other flowers begin to fade.
Category: Home Gardens.
July 12, 2013
Campanula glomerata, commonly known as "clustered bellflower," produces handsome, dark purple flowers that add interest to the spring garden colour scheme.
July 4, 2013
Miniature Gardens at Hamburg's Miniatur Wunderland is a collection of miniature exhibits featuring over 1300 square metres of moving trains (one of which is the longest miniature train in the world).
June 30, 2013
Read about the Canadian Tiger Swallowtail if you take an interest in northern woodland butterflies, photographed in Manitoba's gorgeous Canadian Shield lake country.
June 29, 2013
Ants and Peonies are old friends. The peonies have found ways to attract the ants, which serve to keep other insect populations down. The ants are attracted to the plant's sweet nectar, and climb up the stems to have a small feast on these delicious food sources.
June 23, 2013
The scent of the Lily of the Valley is sweet and lingering. Anyone coming into a room with a little vase of lily of the valley will find the smell of these flowers lingering in memory for a long time. It is one of the highlights of gardening to have these lovely plants near at hand.
June 22, 2013
The blossoms of the Honeysuckle Bush are very lovely, with attractive, light pink petals, and the shrub was a cheerful addition to the dark green landscape of jack pines and poplars along the lakeside and the cottage lane.
June 18, 2013
The stately Blue Flag really does look regal, in keeping with the use of the fleur-de-lis (or de-lys) over the centuries to signify French royalty. In Canada, the Blue Flag is the provincial flower of Quebec.
June 14, 2013
There is something hopeful about Growing Chives and seeing the bright green stems of the chives withstand the cold spring, gradually growing to their full height and expanding their buds into the puffy, lavender-coloured flowers that we recognize each spring.
June 5, 2013
What a delight it is to see two pairs of Red Robins trekking back and forth across our yards. One pair is nesting on a small ledge, about eight-inches square, that is mounted against the side of the house to the east side of my place, under the eaves.
June 9, 2013
Wild Red Columbine is a delightful and reliable addition to a perennial garden. In my zone 3 garden, the columbine comes back every year, it is almost always healthy, and new plants pop up from seed around the garden, starting new growth in areas away from the parent plants and brightening the garden landscape.
May 30, 3013
The understated Three-Flowered Avens is also known on the Canadian prairies and elsewhere in North America as Old Man Whiskers, Prairie Snow, and Purple Avens. An English friend of mine recalls seeing this pretty plant on country drives, growing in ditches and meadows in England.
May 30, 3013
Scilla brings the first touch of spring to my northern prairie garden. It arrives like a reliable old friend, showing up in late April to offer a glimpse of the beauty that will soon grace the rest of the garden.
May 30, 3013
Pretty Primula has been reappearing in my Zone 3 garden year after year, occupying its place like a little pink princess, sitting elegantly under a Japanese lilac tree.