Bath – UNESCO World Heritage Site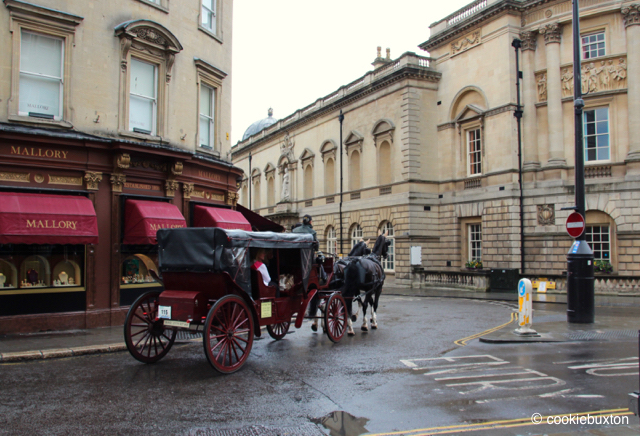 Bath, England
What a pleasure it was to visit gorgeous Bath, England – UNESCO World Heritage Site.
Our visit began with a walk around Bath Abbey, near the River Avon, and on to the Roman Baths Museum and Pump Room.
The ancient Baths were built in the time of Roman settlement, constructed around Britain's only hot spring, and included a temple (circa AD 60) and later, a bathing complex. The Baths, to this day, are still supplied with a natural flow of hot water – some 2,000 years after construction of the original stone baths. It was fascinating to tour the Roman Baths Museum and we enjoyed the historical displays and views of the various bathing rooms and of the Great Bath.
Visiting The Jane Austen Centre in Bath
Leaving the Roman Baths, we made our way back out to the city streets over to The Jane Austen Centre at No. 25 Gay Street.
During her lifetime, Jane Austen made two visits to Bath, in 1797 for six weeks, and again in 1799 for a two
-month stay, prior to her family moving into a Georgian townhouse in Bath in May 1801. Austen remained in Bath until 1806.
Jane Austen chose Bath as an important setting in two of her books and the wonderful scenery from Bath is showcased in the subsequent films based on her novels. For example, Catherine Morland, in Northanger Abbey, runs along Milsom Street to Royal Crescent while
Anne Elliot, in Persuasion, reunites with her Captain Wentworth on Union Street* (*The Jane Austen Centre Guide). We did not have an opportunity to take a UNESCO World Heritage Walking Tour on our visit [visitbath.co.uk], but nonetheless found ourselves walking along the same, well-travelled streets in this pedestrian-friendly city.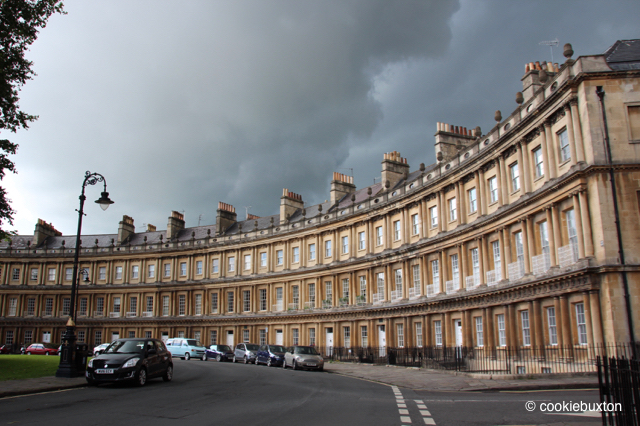 After taking in the Regency period cultural and fashion displays and informational videos at The Jane Austen Centre, we made our way past honey-coloured stone Georgian townhouses towards The Circus and Royal Crescent. By now, the clouds that had been over us during the afternoon produced heavy rain (which, incidentally, was creating a mad scene not far away in the muddy farm fields at the Glastonbury Music Festival, where Adelle was to perform that evening), and we had to curtail our walking tour.
I hope to return another time to visit Bath, see other museums, learn more about Georgian architecture, and discover Bath's many heritage sites and modern attractions. I'd like to take time to stroll through the city's gardens and walkways and to visit the Prior Park Landscape Garden for the scenic views of Bath, situated in the valley, and to walk over the Park's Palladian Bridge and enjoy refreshments in the lakeside tea-garden.
Despite the rain that ended our self-guided walking tour, our visit was satisfying and enjoyable. We learned much about Bath's early Roman settlement and Roman archaeology, and about Bath's popular attractions during the Georgian and Regency periods. We especially enjoyed seeing Bath as it is today, a lovely world heritage city and beautiful tourist destination.
Many thanks, and congratulations, to those involved in maintaining and preserving Bath's UNESCO World Heritage Site status and for sharing your city's lovely attractions with your visitors.
Text and images: Copyright Nadine Kampen / cookiebuxton; some images by Art Kampen
Photography Details: Bath, England (June 2016)
Map: Courtesy of Google Maps
Cookie Buxton Photograph Gallery of Bath
Click on any image to enlarge for viewing. Click again on the image to advance the series in large format.