Charming Cottage Garden in Wales
Posted on

admin

on

June 19, 2017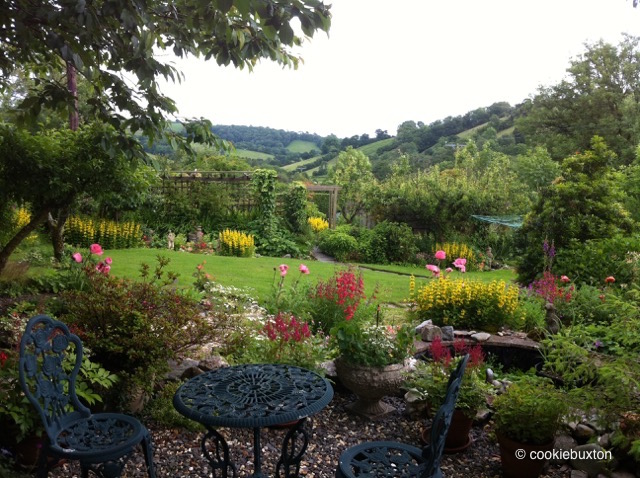 Relying on our in-car GPS, and travelling west following our stop in Brecon, we were amazed that we somehow managed to arrive at our destination near Felingwym Uchaf, in Carmarthenshire, close to the pre-arranged time of 4 pm. The sun was throwing long shadows by this time of day, and we enjoyed the amber-cast to the late afternoon light on the winding roads as we approached the home of family members in Wales.
Peering down the narrow lane as we drove, we soon spotted our cousins, Dan and Christine, who welcomed us warmly to their lovely Welsh cottage and gardens.
Now, I have to say right up front, that Dan and Christine have been to Canada, and they had a good chuckle at our expense at how we use the word cottage. "Those aren't cottages," says Dan, shaking his head at our use of the word to describe cabins at the lakeside. "Those are wooden sheds."
In Wales, and likewise, I suppose, throughout the British Isles, a proper cottage is made of stone. It has features that are distinct and "cottage-like" in ways that our wooden lake cottages and cabins simply don't resemble.
We had the very good fortune to stay with Dan and Christine for a couple of nights, providing time to get to know one another as relatives (we are cousins on the maternal side of the house, with my grandmother having been born in Maesteg). We had a wonderful visit and loved getting to know these dear people, staying in their cottage, and enjoying their gorgeous home and garden and nearby fields. We were visiting in their living room, in fact, on the eve of the Brexit vote, and we watched the news together that evening and the following morning, while the political landscape took its dramatic step in a new direction.
Cottage garden in Wales, near the Brecon Beacons
Dan's and Christine's cottage is situated at the top of a gentle hill, and from their windows they look out across their two adjacent fields and beyond for a glimpse of the rolling Welsh countryside.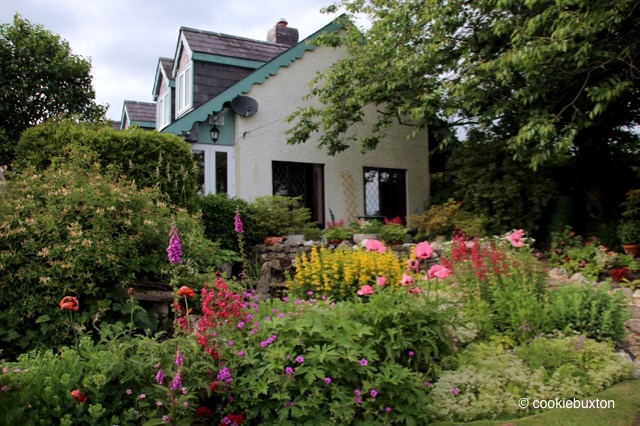 Their cottage property features a stone patio, which is surrounded by a gorgeous, well-tended garden. There are flowering shrubs and wildflowers scattered throughout the grounds, as well as other garden beds further out from the cottage. They were sorry that the hedges had just recently been trimmed back from the roads, so we didn't get to see the gorgeous wildflowers that bloom so profusely in the spring hedges.
Looking after Dan's and Christine's cottage and grounds is truly a never-ending labour of love, and one they take on willingly, though as the years pass, maintaining the grounds seems to take more energy than it did when they were younger. The cottage has seen many years of renovation to bring it to its present, lovely condition. The work has been done primarily through their own efforts. And what a charming, restful place they have created, tucked in near the winding lane, and looking across the rolling countryside, with their own woods and fields, and a small stream bed trickling along at the foot of their property.
After poking about in the gardens near the cottage, and looking at the beautiful flowers, I enjoyed curling up in a chair in the sunroom, sipping team and chatting with my relatives, and looking out across the lawn towards the birdfeeder. From my location, I could easily watch the pheasants and squirrels and wide array of birds stopping here to feed.
My husband and I felt to privileged to spend time with family in this neighbourhood, near to Felingwm Uchaf, and we cherished our opportunity to visit and relax at this beautiful cottage in the very heart of Wales. We especially enjoyed and appreciated the gracious hospitality of cousins whom we had only just met, as they welcomed us so warmly into their homes. For a visit into the real Welsh countryside, we could not have asked for better hosts or a more delightful visit than the one we enjoyed.
Thank you, Dan and Christine, for opening your home to us, and helping us feel so welcome and at ease visiting with you in your authentic Welsh "cottage." We send you our love and best wishes across the many, many miles from our home to yours.
Nadine and Art
Copyright: Images and Text – Nadine Kampen / cookiebuxton
Photo location: Near Felingwym Uchaf, Carmarthen, Wales (images from June 2016)
Photo Gallery
Click on any image to enlarge; click again on that image to advance