Rhydspence Inn, Wales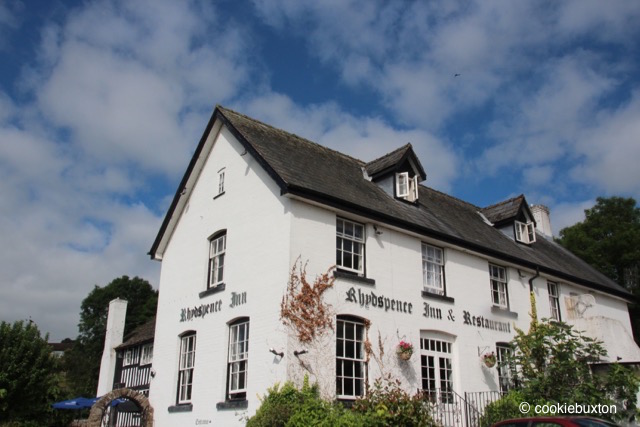 En route to the Brecon Beacons in Wales, approaching from Hay-on-Wye in the borderland Wye River Valley, we stayed over night at the Rhydspence Inn, a drover's inn dating back to 1380.
What a pleasure it was to dine in the cozy restaurant, poke about the old hallways, and relax in our charming room. It was an easy thing to imagine the place filled with travellers back in the 14th century when the Rhydspence Inn served as the meeting place for the drovers ( "cowboys" ) taking their cattle and goats and sheep to market.
The Story of Rhydspence Inn
In one of the photographs, you will see text describing the history of the Inn. The word Rhyd means river crossing. The Rhydspence is located near a ford where the River Wye could be easily crossed, free from bridge-crossing tolls.
In its more recent history, the Rhydspence continued to serve as an inn, a farm property, and an alehouse.
We thoroughly enjoyed stopping here for an overnight rest. We did not meet the resident ghost, Sarah, so are not able to advise on which rooms she is said to frequent, when she is in the mood to visit.
We left after our overnight stay, refreshed and relaxed, and continued on to explore the northern side of the Brecon Beacons.
Related stories listed in My Post-British Garden Tour Blues.
Text and Images: Copyright Nadine Kampen / cookiebuxton.com
Photo Location: Rhydspence Inn, Wales
Photo Gallery
Click on any photograph to enlarge, and click on the image to advance through the series in the larger format.