Bassenthwaite Lake, England
Posted on

admin

on

March 16, 2017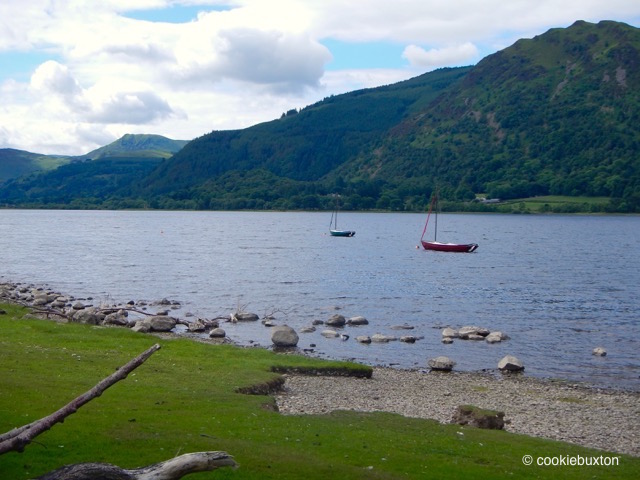 Driving from the north into Cumbria's Lake District in northwest England offered us some delightful views. It was early evening, and we were able to enjoy looking out over the hills (referred to locally as fells) and valleys along the route to Ravenstone Lodge near Bassenthewaite Lake. The Lodge, where we were booked for an overnight stay, is located on the east side of the lake. Our intention was to walk to Bassenthwaite Lake the next day, and enjoy this quiet part of the lakelands, away from the crowds and tourist attractions in the busier parts of the Lake District.
When my husband Art and I first started dating and for many years into married life before we had children, we used to head out on canoe trips together for our holidays, in both summer and fall. We would travel into remote areas of eastern Manitoba and Northwest Ontario, and take our time canoeing along rivers and lakes in the backcountry, enjoying the beautiful scenery and wild, pristine lakelands. We still find ourselves drawn to locations that are away from the crowds, and prefer to see landscapes that, if not wild, have at least not been heavily touched by modern development. England's Lake District is beautiful, and it offers the type of setting we love. One of the more secluded lakes in the Lake District, Bassenthwaite Lake lies within an agricultural area, and so is not a usual destination for heavy tourist travel. To us, it was the perfect place to relax and enjoy a bit of easy hiking.
An easy walk to Bassenthewaite Lake
We were pleased to start out on our stroll to the lakeside by following the path from the back yard of Ravenstone Lodge and west towards the lake. It was lovely to take this walk along well worn paths, through the many sheep gates, past several interconnecting farms, across the fields, and alongside several old stone fences where pink foxgloves grew so abundantly and freely.
After walking for perhaps half a kilometre towards the lake, we were able to see the lake clearly, and caught a glimpse of a few sailboats, and we were drawn towards old St. Bega's church, nearby. The church, built around 950 AD, was not open on that day, but there are photographs of the inside of the church posted online, and we were able to see the inside from these images. We poked around St. Bega's churchyard, and appreciated the care that was being taken to preserve the church and its charming setting.
The area around Bassenthwaite Lake is not heavily populated, and the town of Bassenthwaite at the north end of the lake had, at its last census date, a population of about 500 people.
I loved seeing this area.The lake is long and narrow and pretty. There are ample large trees in the fields with interesting shapes, and the paths we walked along feel like they have been walked on for ever. There is a restfulness in this place. I think it was here, at Bassenthwaite Lake, that I began to gain some bit of understanding of what I think is a characteristic of the British "personality", in terms of the deep connection people feel to the land, for having walked across these very lovely farmlands on a mid-summer day, and on down to the lake.
Related stories listed in My Post-British-Garden-Tour Blues.
Photos and text copyright: Nadine Kampen / cookiebuxton
Photo location: Ravenstone Lodge, St. Bega's Church, Bassenthwaite Lake, in Cumbria's Lake District, England (June 2016)
PHOTO GALLERY
Click on any photo to enlarge; click again on the photo to advance through the series in large format.