My Post-British-Garden-Tour Blues
Posted on

admin

on

January 3, 2017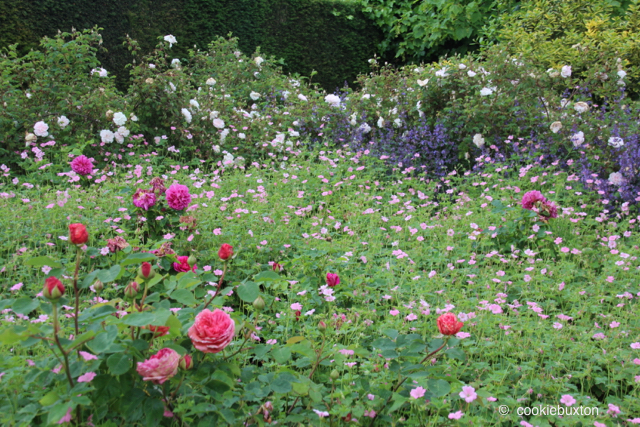 How perfect could it be? 2016 was the summer of my 60th birthday. I had my British garden tour planned in my head for, gosh, at least a decade. I knew with certainty where I wanted to go, what I wanted to see, and which gardens I wanted to include on this, my first, trip to Great Britain (although I had been to London once). My husband came with me, after originally not being interested, to make the trip that much more special. It was My Own Custom Garden Tour 2016 to let me see a small part of Britain's gorgeous garden terrain, mixed in with visits to some wonderful historic and literary landscapes that captured my imagination. That's when my post-British-garden-tour-blues set in.
My ancestry is fully from Britain, so this trip was particularly exciting for me. I am a one-quarter ancestor of each UK partner: fifth generation Canadian with Scottish and Irish paternal family lines, and second generation (born) Canadian of English and Welsh heritage along the maternal line. Here I was, visiting the family homeland(s), and I was thrilled to think I could share my memories with my German spouse and also, through my blog, with my Cookie Buxton friends afterwards.
But a funny thing happened. I got a serious case of post-British-garden-tour blues. I came back to Canada one day after my visit to the amazing Royal Hampton Court Palace 2016 Garden Show. My mind was stuffed with gorgeous images and scenes from this memorable trip, made especially poignant by a visit in the middle of our trip to cousins in Wales and a side-trip to home territory in mining country in Maesteg, South Wales, to see the house where my grandmother was born. We took another jaunt to a little English village called Fontill Gifford, where my great-great-great-et-cetera relations had been gardeners on a large estate during the 1700s and likely long before then, before migrating to Wales. I was deeply inspired from experiences on this trip, and anticipated bringing a new energy and "worldly knowledge" to share with you and apply to my own gardening efforts back in Winnipeg.
Shaking off the post-British-Garden-Tour blues
Well, that didn't happen. In fact, the opposite occurred. From the time of my return to Manitoba on July 6, 2016 until a light dusting of snow covered my little garden in late November, I did not do a single thing outside. I didn't pull out one weed, didn't deadhead, didn't cut the grass, did not stake a single wobbly stem, nor take photos of my home garden to share something interesting with you, and I let my hubby clean up the autumn leaves alone. I had a serious case of what can only be called post-garden-tour blues. I postponed doing write-ups on the gorgeous gardens I visited on my trip. I went completely quiet on Twitter, and only lately posted the first of what should have been dozens of articles, by now, related to the outstanding sights and scenes of this delightful trip.
Why am I telling you all of this? I decided this would help me overcome my impasse. I have tried to figure out how this came about, and how I became "blocked" as a writer.  I am still searching for answers. I was humbled, certainly, in looking around my 50 x 100-foot yard and tiny urban prairie garden when I got back. I was intimidated, no doubt, by the glorious gardens I had seen and tromped around in during my three-week tour of Scotland, England, and Wales. I felt sheepish, to be sure, as a back-yard gardener with no claim to any serious training or special expertise, to share news about famous international gardens with you, my Cookie Buxton blog readers and visitors and gardening friends. And I was sad, at some level, and felt oddly lonesome, in a strange way, to visit an island that was my family's historic territory, that had once been home to kith and kin, and to visit it now as a stranger in the present era without any personal claim to the history and sense of place one cherishes in a homeland. I remember feeling disconnected, on the eve of the Brexit vote, as we sipped tea and ate raisin scones at the home of my relatives, whom I had only just met, and listened to the voting results the following morning while we looked out towards the rolling Welsh hills. In short, I felt ill-equipped to present my stories and photos to you and it felt presumptuous to think you might be remotely interested in what I have to say.
So I am, at this time, in sharing my inhibitions with you, clearing my mind so that I can, without further hesitation, carry on with what I want to do – which is to share some simple stories and scenes and images of a small sample of world-class gardens. I am looking through my personal "lens" and sharing my perspective as an amateur Manitoba gardener, stemming from my love of gardens and personal exposure to Manitoba's wild and pristine spaces, and drawing on experiences gleaned from tending to a tiny patch of earth in the middle of the vast Canadian prairie.
The following is a List of (some of the) Places Visited on My 2016 Great Britain Garden Tour.
As articles are written, I will activate the links in the list below to connect you to the story.

In Scotland
Along the Clyde River Near the Erskine Bridge Hotel
Glasgow Botanical Garden
Edinburgh Botanical Garden
Hollyrood Park
The Royal Mile
Dawyck Botanic Garden and Arboretum
Hadrian's Wall
Gretna Green
In England
Bassenthwaite Lake (Lake District)
Derwentwater Walk (Lake District)
Hay on Wye
In Wales
14th Century Rhydspence Inn (Welsh Border in the Wye Valley)
Brecon Cathedral and Close 
Cottage Garden near Felingwym Uchaf
Aberglasney Garden
In England Again
Bath, UNESCO World Heritage Site
Wells Cathedral and Grounds
Glastonbury Abbey and Garden
Stourhead Landscape Garden (Wiltshire)
Fonthill Gifford – Searching for True Cottage
Salisbury Cathedral and Grounds
Stonehenge
London's Hyde Park
Hidcote Manor (Gloucestershire)
Snowshill Manor (Gloucestershire)
Thomas Blake Memorial Garden, Ross-on-Wye (Herefordshire)
Chastleton House (Farmborough)
Rousham House (Upper Heyford)
Sissinghurst Garden (Kent)
Bleinheim Palace (Oxfordshire)
Stowe (Buckinghamshire)
Waddeston Manor (Buckinghamshire)
Royal Hampton Court Palace Flower Show and Garden (Surrey)
Copyright photographs and text: Nadine Kampen / cookiebuxton.com
Photo location: Edinburgh Botanical Garden (June 2016)